Claudia Mattai del Moro
Production sound mixer
cmdm(at)sunrise.ch
+49 17665143432
Crew United | IMDb
Practising professionally since: 2010
Residence: Berlin + Hamburg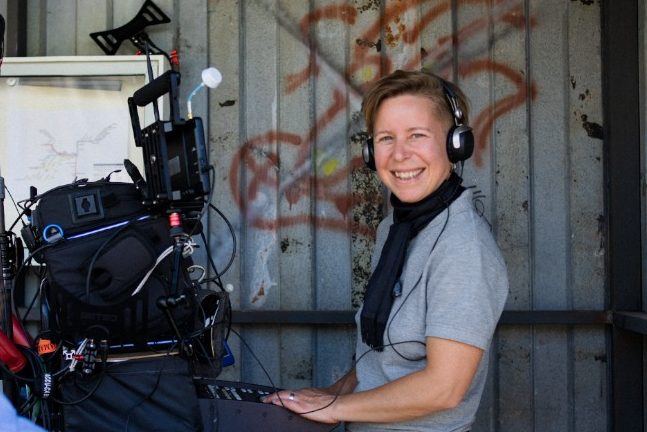 Born 1972 in Zurich, raised in Switzerland; listening between trees and farms at the edge of the forest.
Since 2010 freelance production sound mixer on set of various feature films, documentaries and TV productions.
Until 2004 event manager and project manager for various theater, children and cultural events in Switzerland.
2004, the decision to make the passion for sound and recording a profession. First in the event and live-concert business in Switzerland, from 2006 on in Hamburg. After six months in the studio, with animated film sound design (Little Amadeus), from 2006 to 2009 the training as a media designer for image and sound at Studio Hamburg.
From 2010 to 2015 deepening and broadening of the technical know-how, as a sideline, at the film sound technology distributor Zeigermann-Audio in Hamburg.
Own equipment: Hochwertige Spielfilmausrüstung
Schoeps, DPA, Sounddevices, Wisycom, Sennheiser, Beyerdynamic, Cinela, Ambient-Timecode
Sprachen: German (Native Speaker) | English (Fluent) | French (Basic knowledge)
Filmography (selection)
Eldorado KaDeWe | mini series | production sound mixer | R: Julia von Heinz | P: Constantin Television GmbH | Budapest/Berlin | 2021
Willi und die Wunderkröte | doku-feature film | production sound mixer | R: Markus Dietrick | P: Filmtank | Germany | 2020
Dikkertje Dap / Mein Freund die Giraffe | feature film | production sound mixer | R: Barbara Brodero | P: Hamster Film | Niederlande | 2016
Werner Nekes – Das Leben zwischen den Bildern | feature documentary | production sound mixer | R: Ulrike Pfeiffer | P: TAG/TRAUM Filmproduktion GmbH & Co KG [de] | Schweden | 2016
Bach in Brasil | feature film | production sound mixer | R: Ansgar Ehlers | P: NFP | Germany | 2014